happy thursday sweetie rockstars!
Today I'm linking up with the beautiful and sweet
Ashley
over at
Dancing With Ashley
for Favorite Things!
Now, I've more than likely mentioned all of these things at least once already on this blog,
because when I love something, I need the entire world to know it and love it with me.
Attention seeker of a youngest child, much?
Shake your head a little and then read on, my friends!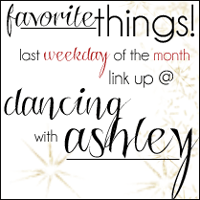 I'm the kind of girl who, if you tell me that a health bar can be my meal, will hold a grudge against
you for the rest of my life because you just personally offended my religion. I believe in food. But these babies
are so filling & so chock-full of almonds and macadamia nuts and other crunchy bits of goodness with
sprinklings of cranberry throughout. And they're amazing. I highly recommend them. (They save me when
I'm running late & need to skip our chef's famous breakfast quesadillas... which is... Every day.)
I've been trying to figure out why I've been so into lip colors lately because it's a complete 180 from
last year and before's lipstick-is-the-LAST-makeup-item-I'd-spend-money-on me. Here's my theory -
I want to maximize the amount of time I spend in bed, so when I am forced to leave for work/school/
social life (the horror!)... I can just pull on sweats + lipstick and still look put together! It's like, if you had time to
put on red lipstick, the rest of this MUST be intentional! So chic! Revlon Just Bitten Kissable
stays on forever, has the prettiest colors, and goes well under other lipsticks. Stamp of approval acquired.
I don't think I've ever gotten more compliments on my nails than this week & I practically beg for them all the time by bedazzling my nails with Christmas tree stickers, trendy ombre colors, and polka dots. And sparkles.
This week was just plain-Jane lilac-purple. It's that pretty. Or maybe people just see it as a sign of
the coming Spring. My nails. The Groundhog. Tomayto-tomahto.
My sister keeps on sending me surprises & if she wasn't already my favorite person ever, she would
be now. I swear she is psychic and can read my need/want right-now mental list. I think "oooh, short
boots would be great right now" and guess what appears at the package center the next day? These
are so cute, makes me think I'm western-bohemian-hipster-indie-cool, and I wear em' with everything!
What is it about feta that makes it and its associates seem so fancy? Cheap college tacos? Sprinkle on
some feta and call yourself a foodie. That's what I do. Pasta? Chicken? Dirt? Do as I do, people! I don't
think my feta kick will be ending anytime soon and I don't mind that one little bit...
I had fun sharing my February Faves with y'all today -
here's to hoping March starts off on a good note!